Overview
RNSH is located on the same campus as Sydney Clinical Skills and Simulation Centre (SCSSC). The co-location of the hospital and SCSSC allows simulation sessions for the RNS anaesthetic department to occur both within the simulation centre and in situ within the operating theatre / hospital.
SCSSC is a state of the art simulation facility which provides an immersive environment to deliver medical simulation education and training for a wide range of healthcare professionals both within RNSH and the community.
Activities in the simulation centre are integrated with our teaching curriculum at RNSH. The simulation program provides an opportunity to develop practical skills, apply knowledge gained through study, teaching and research, and develop crisis resource management skills on a regular basis. We work closely with our critical care colleagues in the emergency department and intensive care unit to deliver interdisciplinary team training where learning is fostered in a safe learning environment, with a view to improve patient care, strengthen interdepartmental relationships, and build high performing teams.
Simulation Facilities
The Sydney Clinical Skills and Simulation Centre (SCSSC) offers a realistic and immersive simulation experience for healthcare professionals. Our simulation labs reflect real-world clinical workplaces, including the following:
A realistic operating theatre which is outfitted with an operating table, light, trolleys, IV stands, anaesthesia machine and instruments, suitable for both single-discipline and interprofessional training.
HPS Manikin (METI) designed to conduct sophisticated anaesthetic scenarios featuring physiologic modelling and realistic responses to procedural and pharmacological interventions.
A separate large laboratory that accommodates two resuscitation bays and is configured for training in emergency departments, intensive care units, recovery rooms, and general wards.
Two seminar rooms that are suitable for seminars, debriefing, and breakout sessions. Both rooms can accommodate 25 and 15 people respectively. All rooms are equipped with touch-screen operated audiovisual facilities with a real-time link to the simulation suites.
The SCSSC also has a full range of patient simulators, advanced anaesthetic simulator, part-task trainers, and technical and educational support from our team of in-house experts. All of these resources are used to provide an immersive and realistic simulation experience that closely mimics real-world clinical situations, allowing healthcare professionals to develop and hone their skills in a safe and controlled environment.
In addition to this, the Royal North Shore Hospital Post Anaesthesia Care Unit is equipped with its own high fidelity patient simulator designed for regular in-situ training to improve patient care and safety, and to enhance the skills and knowledge of healthcare professionals who work in the department and recovery unit.
Faculty Development and Courses
At Royal North Shore Hospital, we offer a diverse range of educational courses for anaesthetic consultants, trainees, and nursing staff using a variety of modalities such as high-fidelity, low-fidelity, and virtual reality-based simulation training. Our training opportunities are designed to be flexible and innovative to cater to the specific needs of our staff. Our current programs and courses include the following:
Anaesthetic Registrar Simulation Program
Our anaesthetic registrar simulation program delivers monthly afternoon sessions with protected teaching time. They are designed to develop our trainees' clinical decision making, crisis resource management skills, and understanding of human factors in the management of high acuity low occurrence events in anaesthesia.
The project is overseen by a suite of consultants with expertise in simulation and medical education, as well as our simulation fellow, and provides expert facilitation and debriefing specific to our trainees' needs.
"The sim sessions have been amazingly educational and interactive but best of all they are the best team building activities I have seen any department do."
ANZCA Emergency Response courses
SCSSC provides ANZCA CPD accredited emergency response training in paediatric anaesthesia, obstetric anaesthesia, and anaphylaxis crisis management tailored towards consultants and senior trainees. These courses provide a fantastic opportunity to update participant knowledge and skills, learn from leaders in the field, and rehearse critical events in a safe environment facilitated by expert debriefers.
EMAC – Emergency Management of Anaesthetic Crises
SCSSC is an accredited EMAC centre, delivering approximately 10 courses per year. Our faculty have extensive experience in anaesthesia crisis management training and the use of high fidelity simulators to deliver an invaluable experience over two and a half days.
ATTAAC – Advanced Technical and Teamwork training in Anaesthetic Airway Crises
The ATTAAC course aims to provide effective strategies for managing both anticipated difficult airways and unanticipated airway emergencies. With a focus on technical skills, decision making, communication and teamwork, the course aims to provide the skills to prevent airway crises where possible, and to optimise management of time-critical airway emergencies.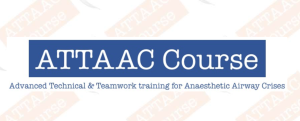 Annual ALS / CICO refresher training
We provide annual ALS and CICO training to our consultants, trainees, and nursing staff. To book your next refresher click one of the links below:
ALS recertification
ALS full course
CICO training
Neonatal resuscitation training
We also provide neonatal resuscitation training on both the Fisher & Paykel, and Panda resuscitaires to our consultants and trainees on a yearly basis allowing participants to refresh their skills, rehearse complex resuscitations, and simulate umbilical vein catheterisation in an enjoyable a fun, safe, and supportive environment.
Simulation Faculty
Professor Leonie Watterson
Director Sydney Clinical Skills & Simulation Centre, Consultant Anaesthetist Royal North Shore Hospital
Dr Adam Rehak
Director of Surgery & Anaesthesia RNSH, Staff Specialist Sydney Clinical Skills & Simulation Centre
Dr Gerri Khong
Department Medical Education Lead, Staff Specialist Sydney Clinical Skills & Simulation Centre, NSW Supervisor of EMAC
Dr Olly Snellgrove
Anaesthetic Registrar Simulation Project Lead
Dr Bill Bestic
Trauma Consultant
Dr Blake Kesby
Neonatal Resuscitation Training Lead
Dr Chris Kay
Neonatal Resuscitation Training Lead
Contact information
Sydney Clinical Skills and Simulation Centre
Level 6 Kolling Building
Royal North Shore Hospital
St Leonards
NSW 2065
Australia
Email: nslhd-smsc@health.nsw.gov.au
Phone: (+61) 2 9926 4620